Sending an SMS
Jack Tardy was stressed –again. But that was a good thing: after all, lots of stress meant lots of contracted work.
Now he urgently needed to tell his employee, Charlie, that the appointment with their customer Mr Jones had been pushed forward to 10 o'clock. But what was the number of Charlie's new cell phone?
It took a while to find the new number. It took even longer to type all the necessary information into the phone on its tiny keys – frustrating! Two phone calls in-between. Finally, message typed and sent. Oh no, he'd forgotten to tell Charlie that he needed to bring a measuring instrument. Ah well, Charlie was a clever guy, he would do just fine.
Meanwhile, in another corner of the town:
Tom Swift just finished a phone call with his customer, Mr Williams. One click in the ZePlanner – Send message. All done! His employees, Bob and Joe, now had all information about the assignment from Mr Williams on their mobile phones. Relaxed, Tom leaned back in his chair and sipped his coffee. Bob and Joe got to Mr Williams well on time and even brought the special little light bulbs that helped to complete their job much more quickly.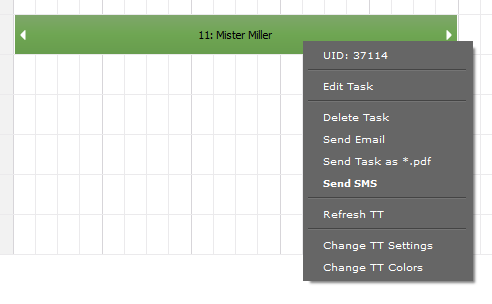 In the meantime, Tardy's employee Charlie was stuck in his second traffic jam that day – now finally on his way to Mr Jones. The address he'd got from his boss before had belonged to another customer, Mr Smith…