15. Order status
Depending on what happened to an order, ZePlanner staff scheduling assigns a certain order status.
There are four different existing kinds of status:
new
urgent
moved
assigned
Status new
As soon as an order is entered, it receives the status new. This kind of status is the most common one in the order overview.
Status urgent
The urgent status can only be assigned manually, by right-clicking on an existing order in the order overview and choosing urgent.
Status moved
This status is set when you delete an entry of an order from the timetable. It serves as a reminder of the deleted order and signalizes that something should happen with that order. You can specify when this status is supposed to be set in the menu User configurations –> Order overview.
Status assigned
This status is set as soon as an order is entered into the timetable.
Arrow buttons
Every new order will automatically receive the status on the top of the list. With the arrow buttons, you can change the sequence of the statuses. Thus, you can determine yourself which status will be given automatically to new orders.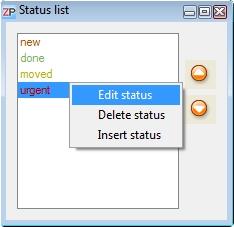 Set your own status
ZePlanner provides you with the opportunity to set up your own statuses and to change the names and colours of the existing statuses in order to ensure optimal adaptability to your requirements.
Go to the menu Settings –> Status. The window Status list will open and display the four standard statuses in their respective colours. Right-click on a status in order to choose Edit status, Delete status or Add status.
The window Status editor opens, where you can change the name and the colour of the selected status.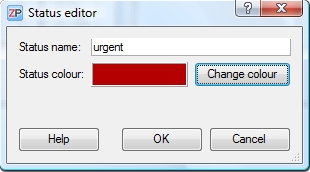 Right-click in the window Status list to select Add status. Again, the window Status editor will open, where you can set the name and the colour of your new status.