22. Collision treatment
Unfortunately, the allocation of deleted entries cannot be done automatically since there are too many criteria to be considered.
A typical case for the appearance of a collision is the unexpected absence of an employee. For instance, your employee has taken ill and cannot work for the following four weeks. You will thus create the event sick leave. After the creation, ZePlanner will inform you that several entries were deleted.
The orders to which the entries belonged must be allocated to other employees manually.
Select the absent employee in the allocation overview and possibly also the filter collided only in order to get the best overview of the deleted entries.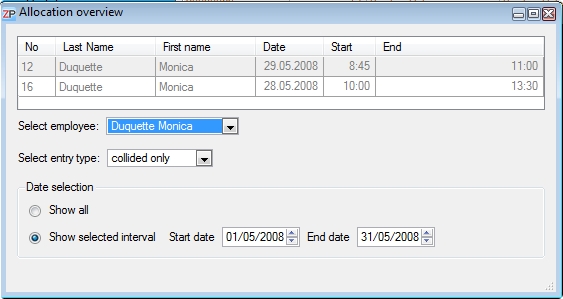 Now you can see only the collided entries of Duquette Monica in the allocation overview.
Two entries were deleted in our example. To be able to re-allocate the respective orders, go to the order overview and search for these two orders. You can re-enter the orders into the timetable via drag&drop from there.
The allocation overview serves only to inform you and to support you in the re-allocation. After you have re-allocated the orders or solved the situation differently, you can delete the respective collisions in the allocation overview.
Delete collisions
You can delete a collision by right-clicking on the respective entry in the allocation overview and selecting Delete collision in the context menu.