24. Activation
When you download ZePlanner – Staff Scheduling Software, you can decide which version you would like to test: ZePlanner easy or ZePlanner standard. You can use these two versions with all their functions for 30 days. After this test period, you can continue to use ZePlanner if you purchase an full version.
After the test period, a window will appear upon starting ZePlanner which will direct you towards the website for the generation of an activation code. In order to receive such a code, you have to enter your company data (name and location at least) into Settings–> Company data in the ZePlanner version you have downloaded. After you have received your activation code, you will be directed to a homepage where you enter your billing address. Thus, you can simply continue to use your ZePlanner version immediately. An invoice will be sent to you within a short time.
If you are interested in ZePlanner pro, please order via the homepage Activation as well. We will contact you to support you with the installation as well as the configuration of the data interface and send the dongle (hardware protection device) as soon as possible.
Activation instructions
When you start ZePlanner staff scheduling, a window directing you towards the website for ordering and purchasing will appear. Please click on Order ZePlanner online to be referred to the homepage where your activation code will be generated.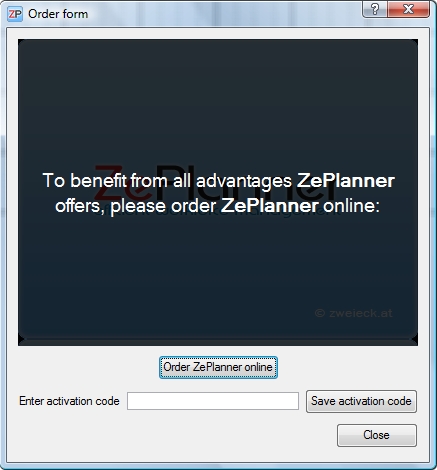 The activation homepage will appear. Please enter the company data in the exact same way you have entered them in the company settings in ZePlanner and choose your preferred ZePlanner version. Confirm your entered data and order ZePlanner with a click on the button Buy and activate ZePlanner.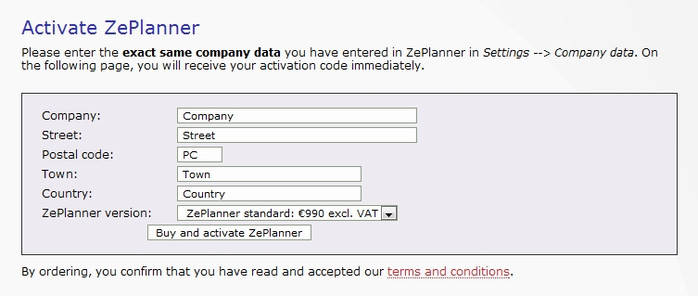 You will receive your activation code on the next page.

Please highlight the activation code and copy it with Ctrl+C or by right-clicking and selecting Copy in the context menu. Paste the code in the box labelled Enter activation code in the order form (Ctrl+V or rightclick+Paste) and click on Save activation code.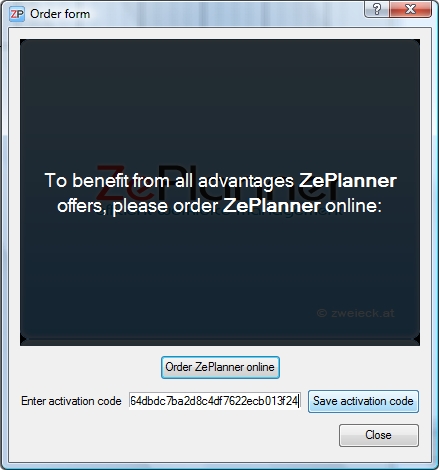 The activation code has now been entered into your company data automatically. Instead of entering the code into the order form, you can also enter it into the company data window yourself (Settings –> Company data). Please note that the data must be entered in exactly the same way used during the generation of the code. Conversely, if you enter your company data into ZePlanner first, you will have to use these exact data when generating the code.