9. Currencies
You can choose the currency you want ZePlanner to use in the order display and order costing.
Several currencies are pre-installed, but you can also create different ones by going to Settings –> Currencies.
In order to choose a currency, you have to activate it.
Right-click on the currency you would like to activate. The currency editor will appear.
Check the box Active currency in order to activate the currency.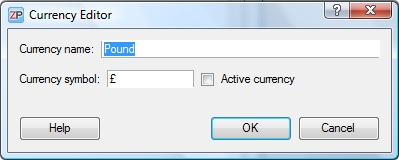 If you would like to add another currency, please right-click into the window Currencies and select Add currency.
The currency editor will appear, where you can insert the name and the symbol of the new currency and determine its activation status.