5. Administrator account
In order to ensure the safety and traceability of your data, all processes are linked to the respective user via the login into ZePlanner staff scheduling software. As a result, the processes are always traceable.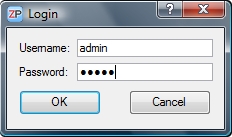 Upon opening ZePlanner, the Login-window will appear.
Enter "admin" in the box next to Username and "admin" into the one next to Password as well. Please note that the Username-box does not distinguish between capitalized and lower case letters whereas the Password-box does.
You are now logged in as the administrator. You should change your access data as the administrator in order to ensure optimal security.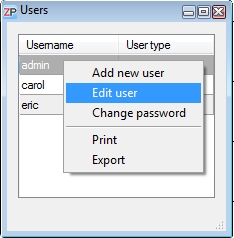 Go to the menu Settings –> Users. Double-click on Admin in the window Users and change your username.
Select Admin as the user type. Make sure the box active is ticked and confirm with OK.
Right-click on your username and select Change password. Change your password and keep it safe!
As the administrator, you possess all rights and the responsibility for many configurations.