21. Allocations
An allocation represents the linking of an order to its entries in the timetable, or in other words, the depiction of the individual entries concerning the time and person they are allocated to.
ZePlanner provides you with two types of allocation overview.
Global allocation overview
You can find the global allocation overview in the menu Orders –> Allocation overview. Click on it and the window Allocation overview will appear. All allocations will be displayed here.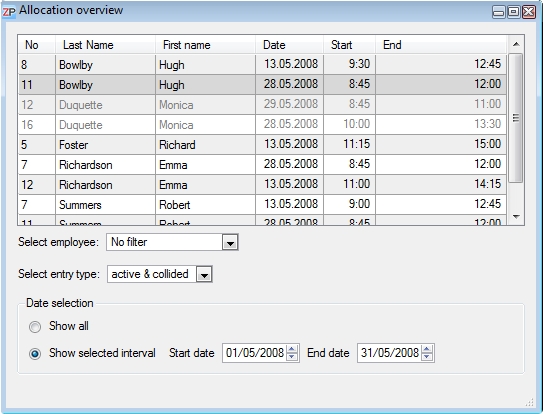 You can see the number of the order as well as the allocated employee and time. Since all entries appear in the allocation overview, you can apply two filter functions to facilitate your work.
Filter function Employee
You can restrict the list to the allocations of one employee only. Go to the box Select employee to use this function.
Filter function Entry type
In the box Entry type, you can select which entry types to display. You can choose between active & collided, active only or collided only.
An active entry is any entry that appears in the timetable.
A collided entry is an entry which has been overwritten by an event and thus been deleted.
Order allocations
In contrast to the global allocation overview, the Order allocations window displays only the allocations belonging to one order.
The order allocations can be viewed directly from the window of the respective order if you click on the button Allocated. Alternatively, you can right-click in the order overview and go to Allocations in the context menu. Both methods have the same result.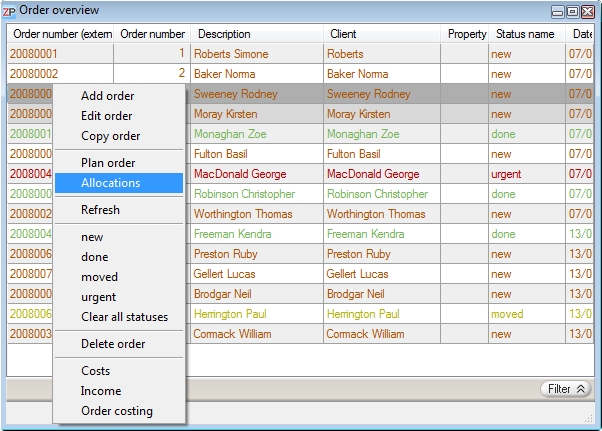 The order allocation has the same functions as the global allocation window. Only the window title indicates that it is an order allocation and which order it belongs to.